Trips Payment
Because of the commitments we have to give the various venues and houses we are visiting, as well as to the coach companies we use, we are now trying to get to a situation where all future trips are paid for in advance.
By using the payment options below you can now use your Credit or Debit card to pay.
If you still wish to pay by cheque or with cash, please make contact with David Grant the trip organiser on 01885 482565 or by e-mail to: d_grant@btinternet.com
——————————————————————————————————————————————————-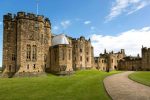 Lacock Abbey, village and Fox Talbot Museum
Monday 10th July 2017.
Coach Price Now: £21.00

Entrance free for NT members. Non-members group rate: £11.50
Leave Conquest car park 8.15am and return to Bromyard approx. 6.00pm.
Set in rural Wiltshire, Lacock village is famous for its picturesque streets and historic buildings.The Abbey, located at the heart of the village within its own woodland grounds, is a quirky country house of various architectural styles, built upon the foundations of a former nunnery The museum celebrates the achievements of former Lacock resident, William Henry Fox Talbot, famous for his contributions to the invention of photography. There are plenty of places to eat in the village or bring a picnic.