Avenbury and the ruined Church of St Mary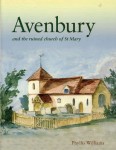 Phyllis Williams
How could a large and relatively prosperous parish which possessed an important church, one of the few recorded in the Domesday Book of 1086, now have lost its ancient village, it's church and it's Victorian School?
Avenbury and the ruined church of St Mary provides an answer to these questions, telling the story of a once active parish and giving an insight into the lives and homes of Avenbury people.
With numerous references, maps, photographs, illustrations and a generous index, this book can be enjoyed by anyone with a love of the Bromyard District and an interest in the history of Herefordshire, and particularly the family and local historian.