Bromyard – its Buildings, Inside Out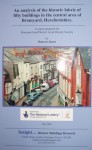 In the Domesday Survey of 1086, Bromyard was recorded as a large agricultural manor held by the Bishop of Hereford. here were two priests and a chaplain who would have ministered to a large surrounding area or 'parochia' of the church. There was then no mention of the town.
The Saxon minster church had already been in existence for some considerable time, being recorded as early as 840. It was situated on high ground close to two crossing places of the R. Frome at Broadbridge and Petty Bridge where ancient roads converge and from an early date, men would have brought their produce here to trade. A small village probably clustered round this core. Richard de Capella, Bishop of Hereford 1121 – 1127, was an experienced administrator who tried to improve the financial position of the diocese. He is the man who is thought to be responsible for the foundation of the planned town. The rents and market tolls thus generated would have been a profitable enterprise for the Bishop.
In 1280, after only some 160 years, a survey was carried out of the Bishop's estates known as the Red Book and this shows an established town at Bromyard with 7 streets and a 'seldae' or Market Square, much larger than today's Square. The survey was carried out street by street with each street name being followed by the names of the burgage holders and their holdings. There were 230 named tenants who held whole, parts or multiples of burgages. The layout of High Street and Broad Street, with their long burgage plots on each side was arranged in an unusual curve that reflected the church precinct. It is probable that there was a first phase of burgage plot layout that stopped on the line of Frog Lane and that the development to the east on both sides of Broad Street and the Market Square itself constitutes a later, separate phase of expansion extending to meet the north-south road of Sherford Street/Church Street, known in the late 13th century as Veteri Vico (Old Street). These ancient houses and shops have been rebuilt, divided, altered, and refaced according to commercial & domestic need and fashion throughout the centuries.
This survey has been carried out by Duncan James in the heart of the ancient borough, in Broad Street, High Street and the Market Square. It was commissioned by the Local History Society and funded by Awards for All. The object was to investigate a range of buildings with a view to understanding their phasing, design and where possible, their original and subsequent function. It has allowed patterns of building that are possibly unique to Bromyard to be identified. The exhibition displays many new unpublished photos. Apart from two 15th century buildings, the early buildings date in the main, from the late 16th to the early 17th century.
This is similar to the Ledbury pattern although the Bromyard houses of this period seem to be of a greater variety in terms of design. In Bromyard there is no doubt that there was a significant period of timber-frame construction, both before and after 1600 as there are at least 50 houses in the central area that contain structural material from this period, some of which is visible although the majority is now hidden behind later facades. Town buildings are far more vulnerable to destructive changes, although towns are also the source of finance and the stimulus for new houses and Bromyard has many good examples of these from the 18th and 19th centuries.