Bromyard – Minster, Manor and Town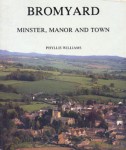 Phyllis Williams, 235 pages 169 Plates
This book considers the development of Bromyard from Saxon times. Probably as early as the 8th century had an important minster church which lay at the heart of Plegelgate Hundred.
Before 1066 Bromyard was the administrative centre of a large manor that belonged to the bishop of Hereford. Here stood not only the minster church and the bishop of Herefords' palace but also the houses of the vicar and the three portioners of Bromyard Minster. Surrounding this ecclesiastical complex were common open fields wherein the bishop and the portioners held their share of the farmland belonging to the manor. In the thriving days following the Norman Conquest, the settlement at Bromyard became a town and planned borough with a market place and seven streets. The local population was expanded by traders, craftsmen, workers and others who moved here for the opportunities that Bromyard offered.
New opportunities are still attracting people and families to the district and Bromyard, Minster, Manor & Town considers recent developments in the town as well as the surrounding farms that in the past have contributed to the prosperity of Bromyard. Bringsty Common, Bromyard Downs and Brockhampton are given special consideration.