Archaeology July 2008
Bromyard Archaeology Group began their series of back garden test pits on Saturday 12th July 2008. These are linked to the historical buildings survey being carried out by Duncan James.
The first test pit was carried out in the garden of Ron and Ann Williams, 12, Church Street.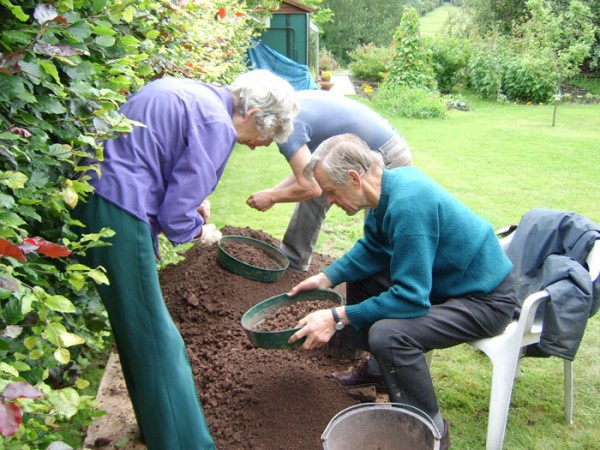 We met at 9-30 am to begin what I believe will be a very interesting and exciting series of archaeological investigations within the very heart of Bromyard. I had instigated the project and was excited to be getting it under way. Ron and Ann had kindly given us permission and we were ready to begin. Everything was in place and the volunteers were keen. They were Andrew Palmer, Peter and Joy Mesdag, Jilly Goulding and Kathi Jones with her very keen youngsters, Cameron and Megan, who took to archaeology like ducks to water! Ann joined in on Sunday morning and had a great time washing finds, while Ron kept us supplied with refreshments.
Digging began and every bucketful of soil was sieved to ensure nothing was missed. As expected, the top spits ( a spit is 10 cms deep ) contained relatively modern material, but at a depth of 30 to 40 cms we were encountering what appeared to be late medieval pottery; these will be examined by our pottery expert Benedikte for precise dating. If it turns out to be this early it will probably pre-date any of the present buildings on Church Street and will be evidence of our medieval Bromyardians.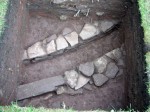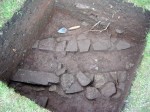 At 60 cms two rows of stones appeared these were laid horizontally; we had by a stroke of luck chanced upon an archaeological feature! We carefully cleaned the feature and photographed what appears to be an 18th century stone lined drain, which possibly served cottages 8 and 10. Cottage number 8 has a cellar and judging by the old well just outside the door some drainage may have been required. The drain had no discernible silt build-up indicating that it probably carried relatively clean water. It would also have originally had stone capping, to prevent soil ingress.
All in all it was an excellent weekend which everyone involved enjoyed (even though we got soaked a few times by our lovely summer weather!) Thanks once again to Ron and Ann, and to our volunteers. We are now ready for the next one. Will keep you posted.
Steve Palmer.