Bromyard, Round and About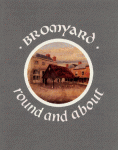 A collection of Journal Articles, Edited by D Waller 1991  £2.95
The society has had a newsletter or journal for nearly 25 years and it was thought that many of the original articles would be of interest to a wider public. Also included are newspaper stories and other material drawn from the society's collections.
The articles, which follow a figure of  eight through Bromyard and it's parishes, are not in chronological order, and many things have changed since they were written.
The tour starts with a doctor in Bromyard and some other items in the town, before going to The Downs and Norton and then along the lane to Avenbury, Jumper's Hole, Castle Frome and Cheyney Court, and back via Burley Gate, Stoke Lacy and Pencombe to Bromyard, where the 'Bromyard Fire Service' safeguards both town and country. Out again on to the figure of eight to Winslow and Grendon Bishop and far flung Wolferlow. Then to Tedstone Delamere and back on 'Rural Rides' to Bromyard finishing with another town doctor.