News and events
National Trust to lead season of excavations at Herefordshire Estate which could have origins from as far back as Norman Conquest
The view from the manor house bedroom overlooking the orchard at Brockhampton Estate© Steve Betts
A Herefordshire estate enclosing a ruined chapel built a century after the Norman Conquest will be at the centre of archaeological investigations this summer, hosting a series of excavations under the watch of two National Trust experts and the volunteers and visitors they will train in geophysics, surveying and other key talents of the trade.
Brockhampton Estate is thought to have an Anglo-Saxon name, suggesting that a settlement may have existed there before 1066. The earliest heritage within the modern grounds – the chapel site – was probably constructed during the 1180s by the Brockhampton Family, who were first recognised in a charter dated from 1166.
"The project is focusing upon the early history of the estate – in particular the origins of Lower Brockhampton House and the chapel," says Christopher Atkinson, the Project Archaeologist for the Summer of Archaeology initiative.
Coming up –  interesting evening meetings and trips – see  programme for more events
Saturday 11th May 2013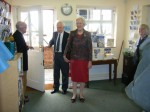 A good number of members and others gathered in the Bromyard & District Local History Society's premises at the top of Sherford Street to celebrate ten years in the building, the Society's first permanent headquarters and an unusually well resourced and equipped centre for a local history society.
As the building had been opened in 2003 by the then Lord Lieutenant, Sir Thomas Dunne, we were glad to welcome the current Lord Lieutenant, the Countess of Darnley, of The Freeth, Thornbury. After the chairman had spoken about the society's achievements in the past ten years, Lady Darnley congratulated everyone concerned. She toured both the exhibition and the research room and archive stores upstairs, and declared herself impressed. She met many of those concerned with the conversion of the building, and those currently running the society, and left a research query: the significance of the name of the house where she and Lord Darnley (who was also present) currently live. (The answer proved to be that the various forms of the Anglo-Saxon fyrdh(e) signify "land overgrown with brushwood, scrubland on the edge of farmland". It usually appears in place-names as "frith". In modern Welsh the borrowed word fridd is the rough grazing above the in-bye farmland.)
Charles Gordon Clark, secretary BDLHS
The Archaeology group have been meeting at Manor Farm, Bredenbury on Saturdays from March 2013, weather permitting. If you are interested in having a go at archaeology please contact Steve Palmer stevep50@fsmail.net for more details. All welcome.