News and events
Chairmans Chat- Spring 2013 – read or download the pdf here
Open Day – Saturday 11th May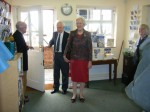 A good number of members and others gathered in the Bromyard & District Local History Society's premises at the top of Sherford Street to celebrate ten years in the building, the Society's first permanent headquarters and an unusually well resourced and equipped centre for a local history society.
As the building had been opened in 2003 by the then Lord Lieutenant, Sir Thomas Dunne, we were glad to welcome the current Lord Lieutenant, the Countess of Darnley, of The Freeth, Thornbury. After the chairman had spoken about the society's achievements in the past ten years, Lady Darnley congratulated everyone concerned. She toured both the exhibition and the research room and archive stores upstairs, and declared herself impressed. She met many of those concerned with the conversion of the building, and those currently running the society, and left a research query: the significance of the name of the house where she and Lord Darnley (who was also present) currently live. (The answer proved to be that the various forms of the Anglo-Saxon fyrdh(e) signify "land overgrown with brushwood, scrubland on the edge of farmland". It usually appears in place-names as "frith". In modern Welsh the borrowed word fridd is the rough grazing above the in-bye farmland.)
Charles Gordon Clark, secretary BDLHS
Coming up – see programme for more events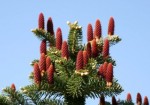 Tuesday 11th June – Repeat visit to the National Memorial Arboretum – www.thenma.org.uk. Cost £15.00 payable at time of booking please. Coach leaving Conquest Theatre Car Park at 9am. Booking essential: 01885 482543/077234 23354
Sunday 1st September - Frocester trip - Leaving Conquest Theatre Car Park at 9.00am, 10.30am arrive Frocester Court– guided tour. Please bring a packed lunch which we have the kind permission to consume in the garden. Depart 1.30pm to go to Woodchester Mansion 2.00pm arrive – guided tour at 2.30pm and tea and cakes before departure at 4.30pm.  Arrive back in Bromyard at 6pm. Cost TBA.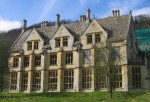 Frocester Court is a mansion within the village. Once much larger, it was vastly reduced in size in the mid 19th century. The Victorian rebuilding of the house and its precincts hid many medieval features which remain in situ. Parts of the house predate the Reformation, while other parts date from the 15th century. The grounds have a late medieval dovecote and a 14th century tithe barn. The site of a Roman villa was discovered at Frocester Court dating from around 270 AD to the 5th century. During excavations it was discovered to be of a winged corridor plan with a hypocaust and mosaic, forge and corn dryer. A series of ditches pre-dating the villa were also in evidence. The villa has been extensively robbed, largely during the 13th century and it is suggested that the stone may have been re-used in the building of the nearby tithe barn. Woodchester Mansion (www.woodchestermansion.org.uk) is a 19th Century Victorian Gothic Masterpiece mysteriously abandoned mid-construction in 1873. Hidden in a secluded Cotswold valley, it is untouched by time and the modern world. This Grade 1 Listed Building has been saved from dereliction, but will never be completed. Visitors walk through an extraordinary architectural exhibit in which the secrets of the medieval Gothic builders and masons are laid bare. The carvings in Woodchester Mansion are among the finest of their kind in the world.
The Archaeology group have been meeting at Manor Farm, Bredenbury on Saturdays from March 2013, weather permitting. If you are interested in having a go at archaeology please contact Steve Palmer stevep50@fsmail.net for more details. All welcome.